Map of the Hotel
About Us
The Grand Ballroom
Elevated Stage, projection equipment, electric screen, audio system, lighting effects
+886-2-2886-8888 to Banquet Reservation
With the grandness of elevated 11-meter ceiling, carved pillars, and arched column and crossbeam, flying dragon sculptures, this banquet room presents blessings and fortune to its customers. You and your guests will receive our prestigious and exclusive services provided for international conferences, wedding banquets, or large-scale parties.
Kun Lun Room
Assembly stage board, projection equipment, portable screen, audio system
+886-2-2886-8888 to Banquet Reservation
Decorated with Japanese style, the elegant Kun Lun Room provides you the lookout view of Keelung River. When there is a dinner banquet, guests are able to enjoy the night view of Taipei City here. With the toast, guests always have a great time here.
Prestige Lounge
10F
+886-2-2886-8888
10F Prestige Lounge Business Hours 07 : 00 ~ 22 : 00 Prestige Lounge provides exclusive space for business customers.

Between 10:00 and 18:00 cookies, coffee, tea or soda are served at the price of NT$420+10% per person. Customers who stay at rooms of Prestige floors can use the meeting room free of charge for the maximum duration of one hour.
Auditorium
Elevated stage, single/three lenses projector, electric screen, audio system, Wi-Fi, infrared SI equipment, ISDN wire, preparation room, and VIP lounge
+886-2-2886-8888 to Banquet Reservation
There are nearly 385 seats in the Auditorium, which is designed with multifunctional and comfortable elements, professional lighting, AV system, and modern international conference facilities such as infrared transmission interpreting system. It is the best choice for various types of ceremonies, performance, and meetings.
Chang Chin Room
Assembly stage board, single-lens projection equipment, electric screen, audio system
+886-2-2886-8888 to Banquet Reservation
Decorated with basic color of dark green to incorporate with golden floral pattern and wooden gourd shape carved window platform on white walls, the Hall presents calm and elegant style and is the top choice as an important meeting venue.
Song Po Room
Assembly stage board, single-lens projection equipment, electric screen, audio system
+886-2-2886-8888 to Banquet Reservation
With the representation of street buildings of tea houses to incorporate with chandelier like stars in the sky, one can feel the relaxing beautiful atmosphere right away. It is an ideal site for weddings as well as Eastern or Western tea parties.
Hotel Room
2~9F

We offer 500 guest rooms with a daytime view of a flowing river and surging clouds and quiet nighttime view of the city. Come and experience modern luxurious comfort in amidst classic ambiance.
Shop District
Shop District
Chi Lin Banquet Restaurant
Assembly stage board, projection equipment, portable screen, audio system
+886-2-2886-8888 to Banquet Reservation
The Restaurant serves authentic Cantonese cuisine for wedding or birthday banquets, table meals or set meals that is suitable for any dining plan.
National Banquet Room
Audio system, VIP lounge, powder room
+886-2-2886-8888 to Banquet Reservation
National Banquet Room is an ideal site for the lookout of Keelung River where big round tables that accommodate 20-34 people are provided. Elegant living room is a place where customer can chat easily before and after dining. Performance of Chinese Orchestra can be arranged for you and your guests to fully enjoy reception and services of national banquet. Here is a good choice for important meetings among politicians and celebrities. Jade mounted curtain in the hall, photo of Cairo Declaration, and Long Feng Palace Lantern are objects used by the Late President Lord Chiang and Madam Chiang. The historical value and meaning demonstrate our highest respect to customers.
Multi-functional Meeting Rooms
Wi-Fi, single lens projector, electric screen, audio system, in-hotel telephone, powder room
+886-2-2886-8888 to Banquet Reservation
On Floor V above the lobby, there are ten VIP booths at the area of scale of 20 pings (66.11 m2), 24 pings (79.34 m2), and 36 pings (119.01 m2) to meet your need and arrangement for small meetings, VIP reception, engagement ceremonies, and dining.
International Reception Room
Assembly stage board, single-lens projection equipment, electric screen, audio system
+886-2-2886-8888 to Banquet Reservation
On Floor VF, the International Reception Hall is decorated with modern elements, an ideal site for Western style wedding ceremonies. With spacious corridor on two sides, guests can arrive here from lobby via steps. The design of grandness is suitable for conferences, weddings, and ceremonies. With professional services we offer, here is the best venue choice for your events.
Golden Dragon Restaurant
Popular classical dishes including Cantonese seafood cuisine, dim sum, and Grass Beauty Beef Rib, Golden Dragon Roasted Duck
+886-2-2886-8888 #1262/1263
The golden dragon at the middle of fountain in the front gate tells the history of hundreds of years, the representative spirit of the Restaurant. The Restaurant is designed with a dining area of 180 seats, a banquet hall accommodating 18 tables, booths including Plum, Orchid, Bamboo, Chrysanthemum, and Jinbi and National Banquet Room for the organization of banquets of different sizes. The dining environment is designed with glass curtain for its customers to dine and enjoy the view of Keelung River, the high-rising 101, fantastic ferries wheel, and colorful Dazhi Bridge.
Dining
Brand and Product Sales Department
East Side Of Lobby
+886-2-2886-8888 #1852
"Brand and Product Sales Department" is a souvenir store which set up with the cultural and historical stories of the Grand Hotel. With various creative products, as well as the handmade souvenirs made by our Chef. The souvenirs in the Grand Hotel are the best ideal gift for all occasions! Let's look for a classic cultural and creative product for friends,relations and yourself. Opening hours: 08:00-21:00
Yuanshan Steakhouse
Dry aged steak, strictly selected prime steak, Japanese Tomahawk steak, fresh salad and cheese bar
+886-2-2886-8888 #1250
Creative dishes including dry and wet-aged steak, grill cuisine, fresh salad and cheese bar, pasta, and pizza are served.
Yuan Yuan Restaurant
Jiangzhe Cuisine and North Chinese snack foods
+886-2-2886-8888 #1241
Located at the right side of the lobby at The Grand Hotel, Yuan Yuan Restaurant serves its customers the authentic Jiangzhe Cuisine, North China snack foods and noodles. Yuan Yuan's specialties include Xihu Fish in Vinegar Gravy, Wuxi Crispy Eel, Dong Po Pork, Sweet and Sour Squirrel Fish, and Steamed Beef. North Chinese snack foods served here are many customers' favorite foods such as Lotus Root with Sweet Sauce, Sweet Taro with Gingko, and Madam Chiang's favorite, Steamed Rice Cake with Red Beans.
Grand Garden Restaurant
Borderless Creative Buffet Cuisine and Delicate Italian & French Desserts
+886-2-2886-8888#1221/1231
To respond to the trendy dining habit, Grand Garden Restaurant began its revolutionary reform in 2009. More than 100 dishes are served in buffet dining that combines Chinese, Western, and Japanese delicacies to attract customer's taste bud. Open-style kitchen allows diners to enjoy fresh and diverse foods and appreciate cooking skills of chef at the same time. Our smiles and sincere service attitude make customers feel being prestigious. Grand Garden Restaurant serve foods that satisfy you. There are seven comfortable areas and booths accommodating 400 seats; breakfast, lunch, dinner, and afternoon tea are served.
Garden Café

+886-2-2886-8888#1221
Garden Café is located on the left of hotel lobby on Floor 1 where various set meals, delicate desserts, afternoon set meal, coffee, and beverage are served. The Café is decorated with mixed traditional and contemporary arts by international well-known artists and professional flower arrangement team to build the Café as one of the highlights of contemporary art.
Meet Bar
Red House, National Banquet Wine, Banquet of Street Food
02 2886 1818 #1998
Come and enjoy a glass of wine specially brewed for the heads of state in the Red House where you can breathe the taste of culture. The word "meet" in MEET Bar is a homonym of "secret passage" in Chinese. The bar connects old and new spaces adjacent to each other, which symbolizes the old days and present of The Grand Hotel. The hotel has newly opened a path for "a slightly intoxicating walk in Taipei" at the time of the opening of MEET Bar. You are invited to visit the East Secret Passage that has been opened at night for the first time in five decades before enjoying a drink in the bar. No matter what social status you hold, you can pass the original cave that connects the previous existence and present life of The Grand Hotel, find yourself in the Secret Garden, and silently admire the former residence of Kung Ling-Wei as long as you visit MEET Bar. On your way back to the bar, you can even order a glass of "Red House" cocktail for the occasion and enjoy a discount with the presentation of your admission bracelet given by MEET Bar for you to appreciate history while feeling slightly intoxicated.
Dining
松鶴餐廳
菜式:無國界創意百匯料理及精緻義法甜點
聯絡電話:(02)2886-8888轉1221/1231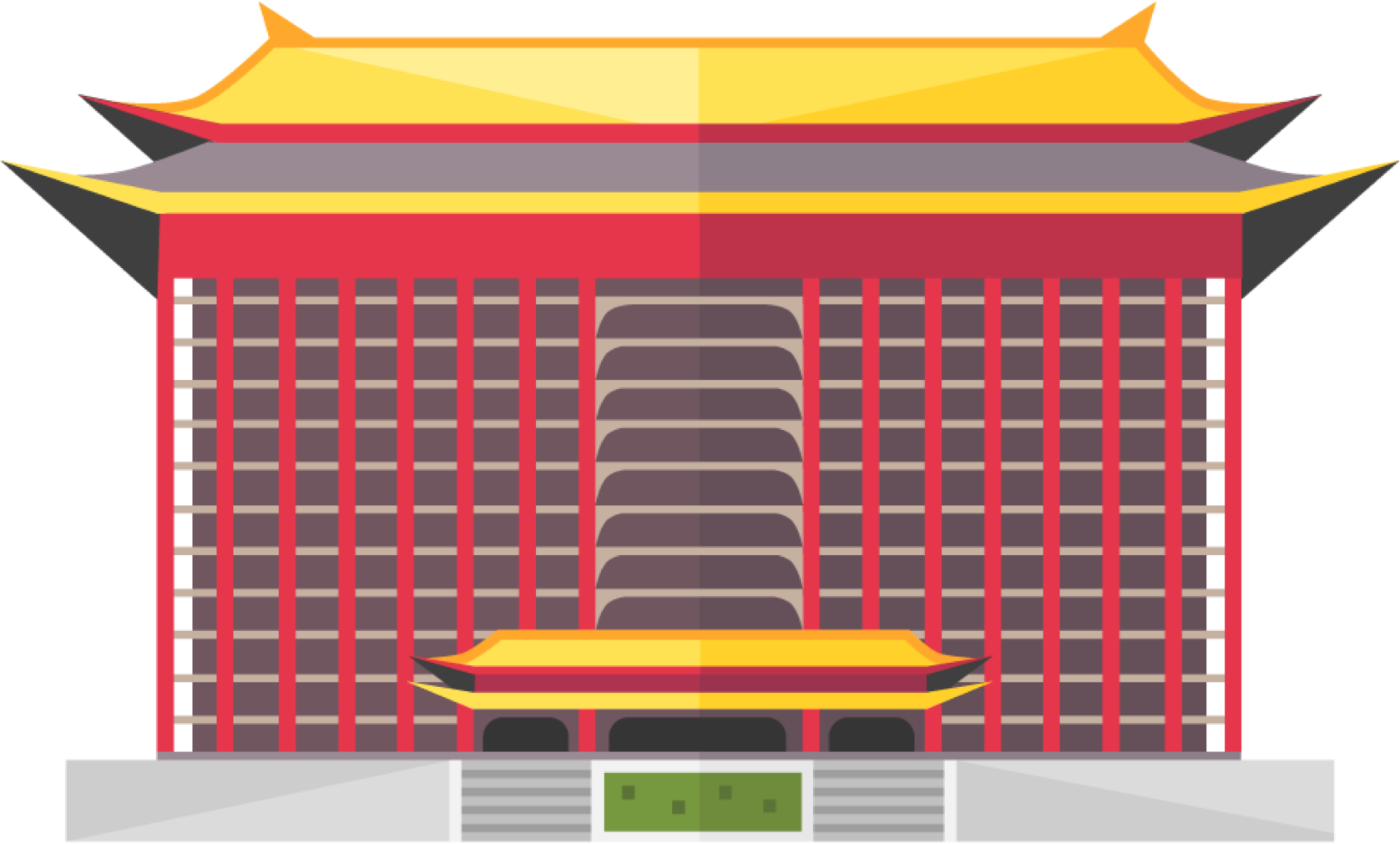 The Architectural Beauty of The Grand Hotel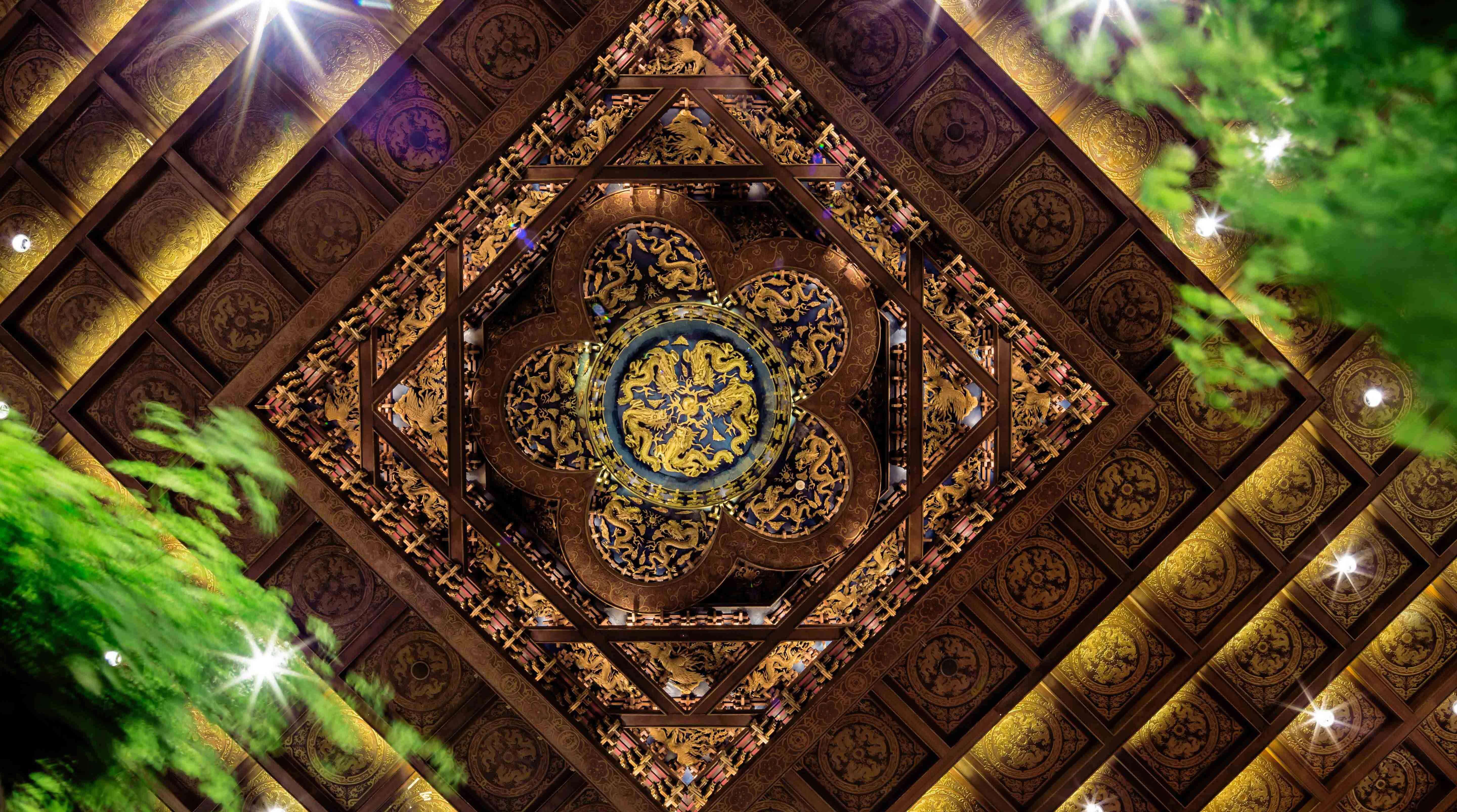 Plum Blossom-Shaped Caisson Ceiling
A plum blossom-shaped caisson ceiling hangs on top of the Hotel lobby. In the center of the plum blossom, five golden dragons circling a pearl symbolizes the arrival of five blessings. Inside the caisson ceiling there are 23 peripheral golden dragons and 16 phoenixes for the summoning of good fortunes: "Ascension to Eminence" and "Prosperity All the Way". In Mandarin, the number "3" has a similar pronunciation to the Chinese word for "Ascension". If said together with the Chinese word for "Plum Blossoms", the number "16" plus a blossom will sound like "Prosperity All the Way". The plum blossom-shaped caisson ceiling is thus a profound symbol for auspiciousness and success heralded by dragons and phoenixes.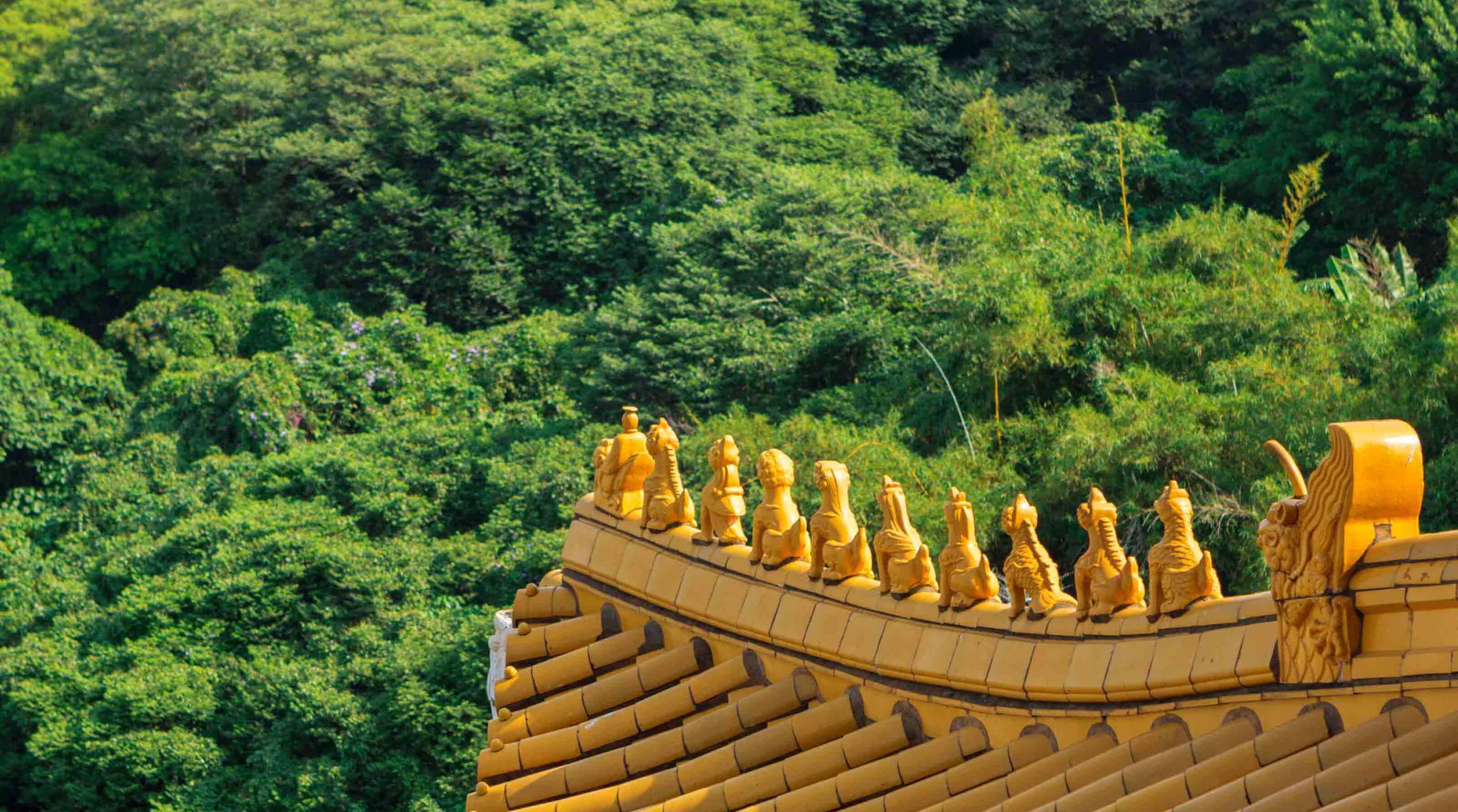 Flying Rafters and Wooden Brackets
The flying rafters and wooden brackets on the roof edges are an embodiment of ancient Chinese civilization. On top of the vertical ridge of the roof is a row of squatting beasts occupying the protruding rafters. Resting between the main ridge and the vertical ridge of the roof are tiled ornaments shaped as owl tails. The splendid, exquisite yet powerful wooden brackets beneath the roof are the most awe-inspiring feature of the Chinese architecture, considering all its tangible or opaque elements.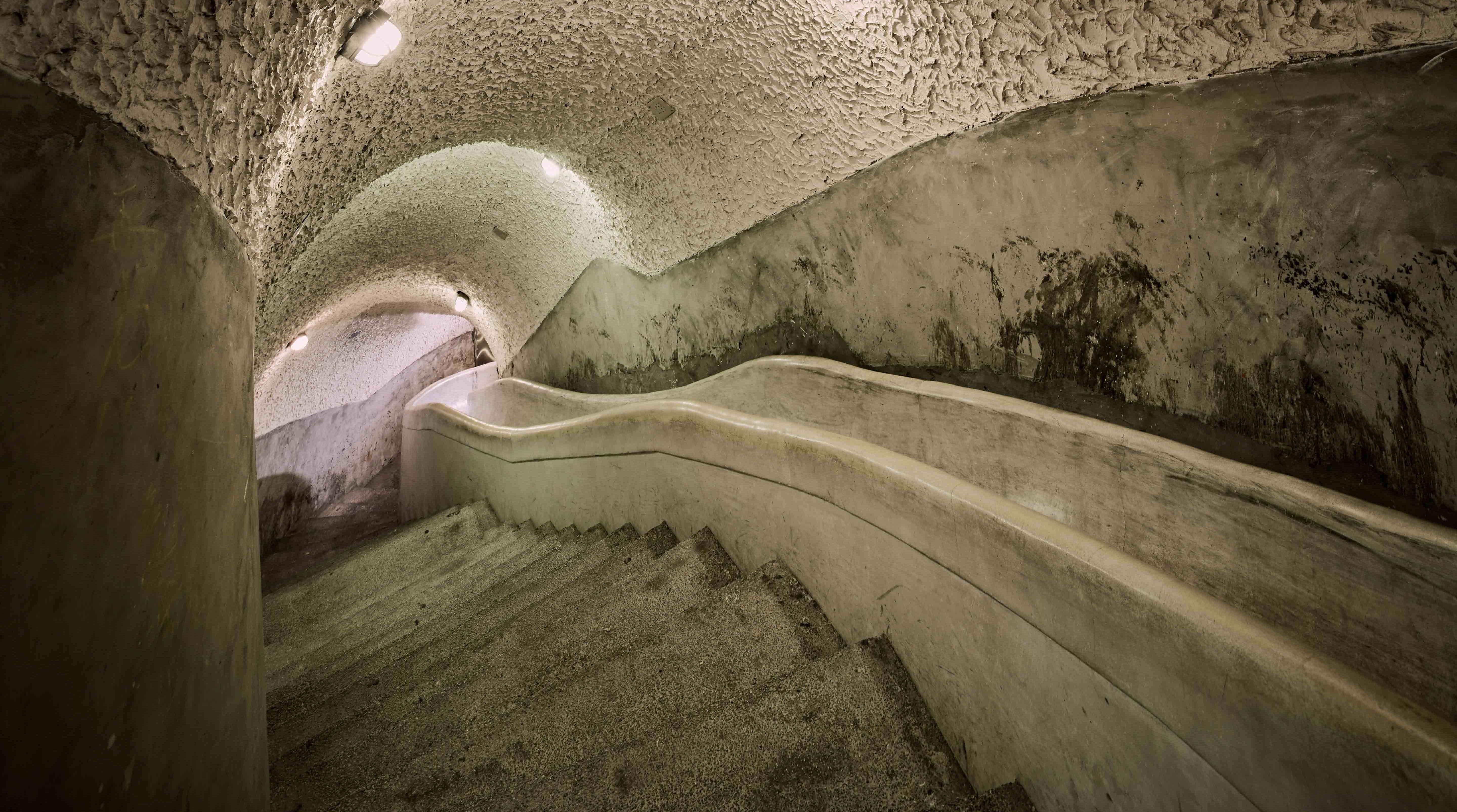 West secret tunnel
Over the years, the Evacuation Tunnels have come across as very mysterious. Some speculate that they are secret passageways leading to the Presidential Office Building, while some others insist that they are connected to the Shilin Official Residence. In actual fact, they are emergency exit routes built during the Hotel refurbishment. Currently, the Grand Hotel is the only world-class hotel in the world with such a design. There is one Evacuation Tunnel on either side of the Hotel. The one on the East, measuring 67 meters, leads to Beian Park, and the one on the West, measuring 85 meters, leads to Jiantan Park.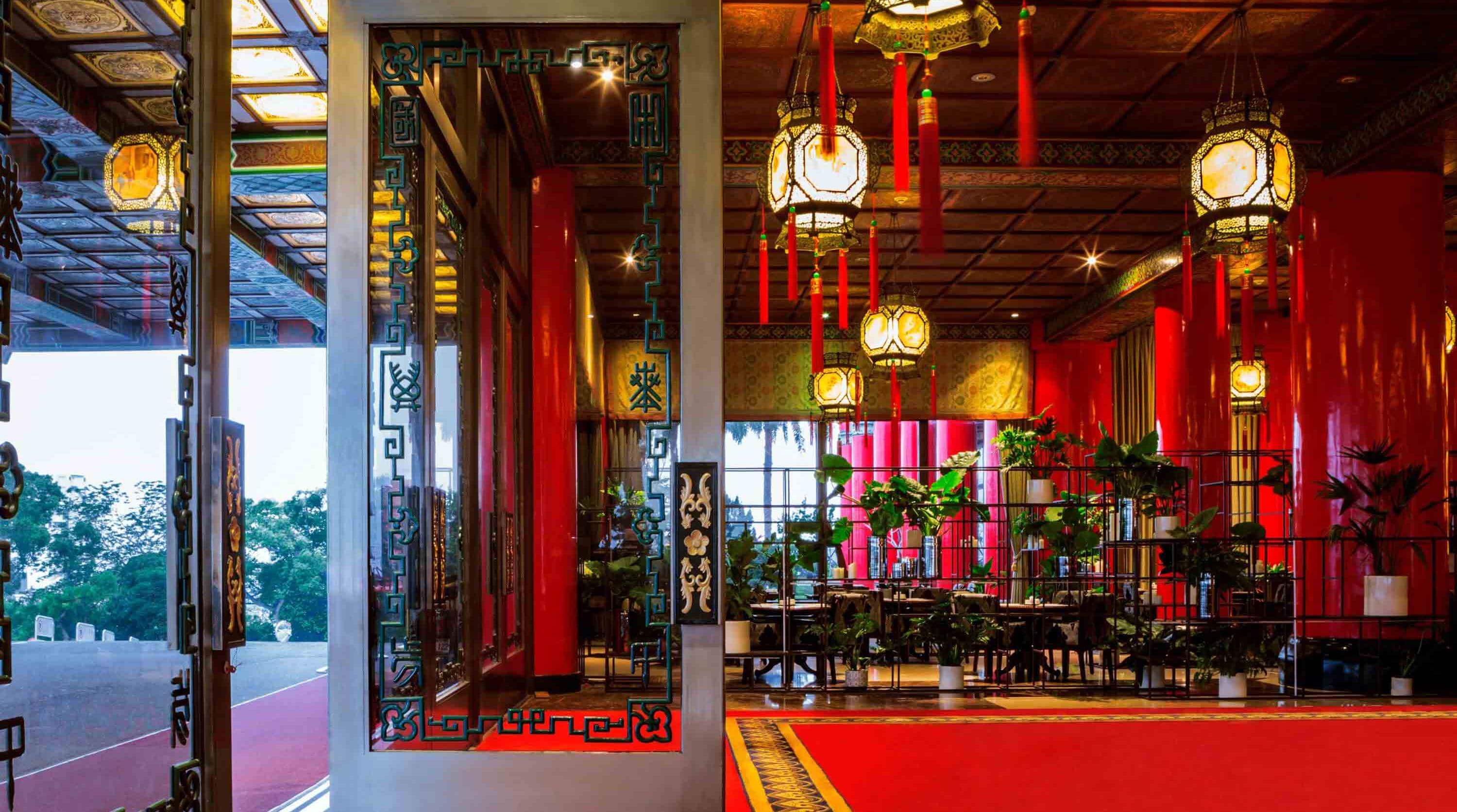 Glass Doors in the Lobby
At the main entrance of the Grand Hotel are large glass doors, rectangular and elegant. On closer inspection, one can see six hidden archaic characters on the glass stating "Long Live the Republic of China". This design not only reflects the hotel's historical background but also the ingenuity of the architect.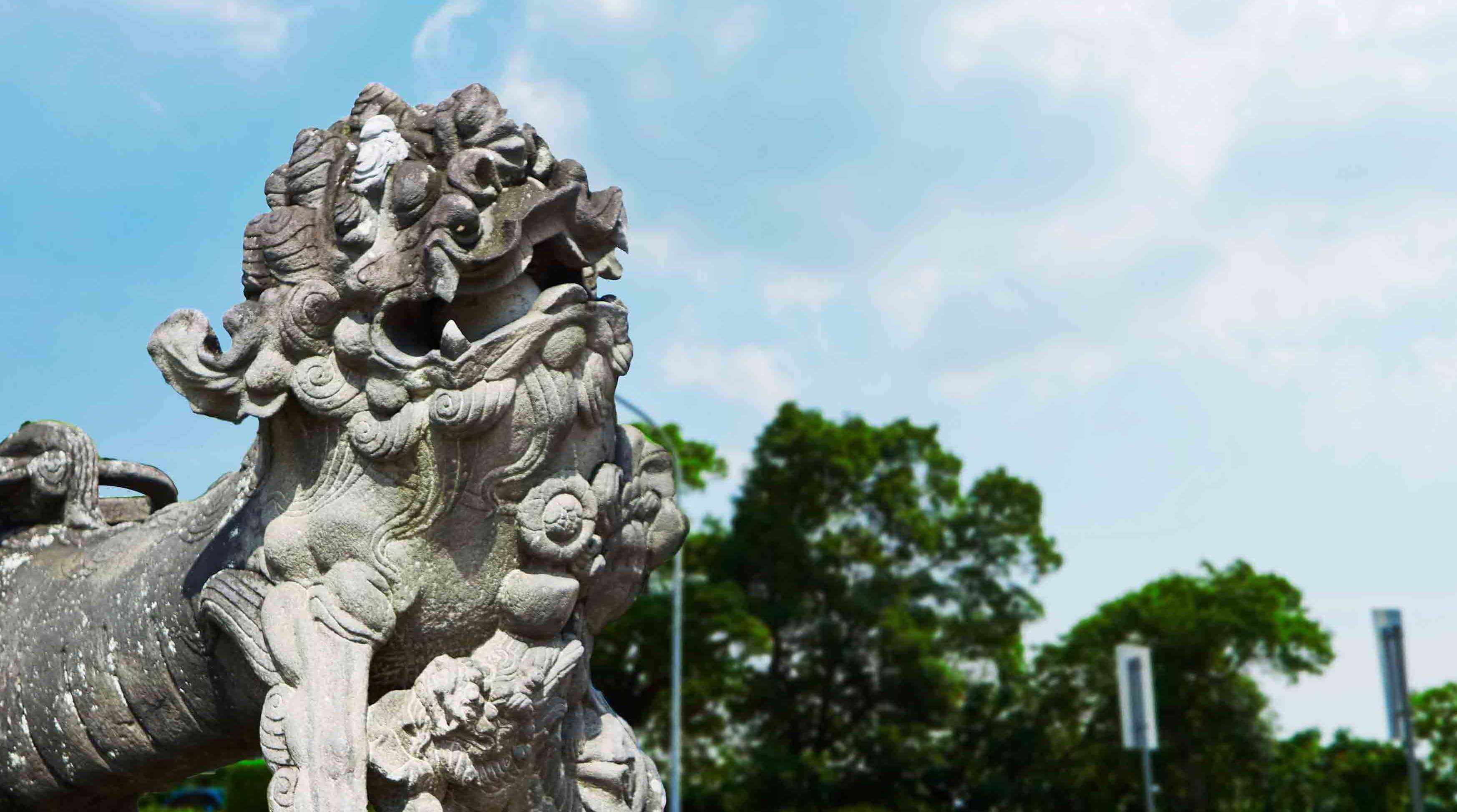 Stone Lions from the Lin family
The pair of stone lions on the garden plaza are nearly one hundred years old. The Lin Family in Banqiao were demanded to dedicate the stone lions to the Shinto shrine when it was first built on the current hotel site. Although smaller in size than the new stone lions under the Hotel's Memorial Archway, these southern-style stone lions nonetheless appear vividly real, owing to the sculptor's powerful and masculine carving.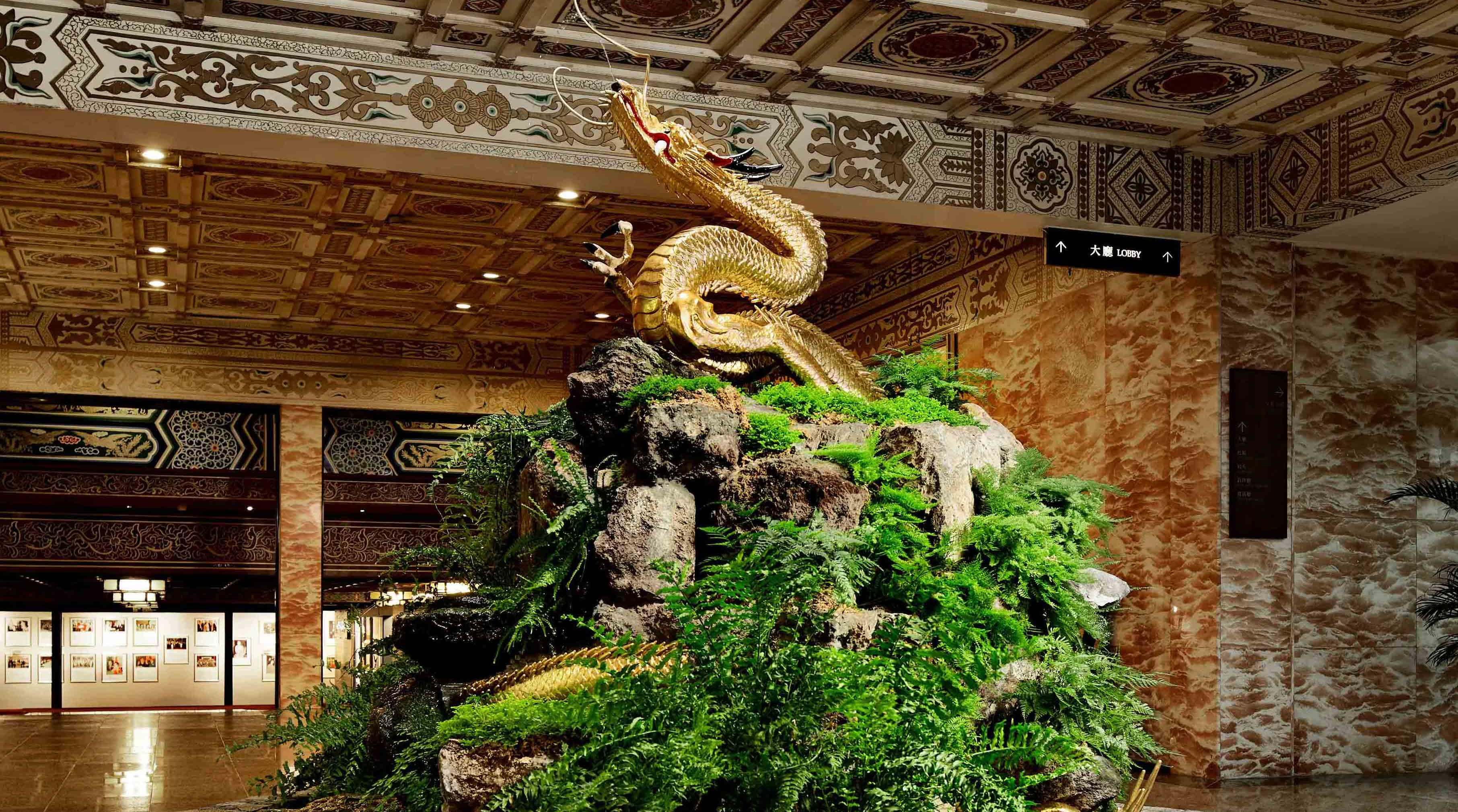 Centennial Golden Dragon
Originally erected as a bronze dragon in front of the Taiwan Grand Shrine, the Centennial Golden Dragon was preserved when the Grand Hotel underwent expansion and was moved to the front of the Golden Dragon Restaurant. The Dragon was gilded with 24K gold during the 1987 refurbishment. The Dragon stands out with its three claws, as opposed to four or five claws in traditional Chinese dragons.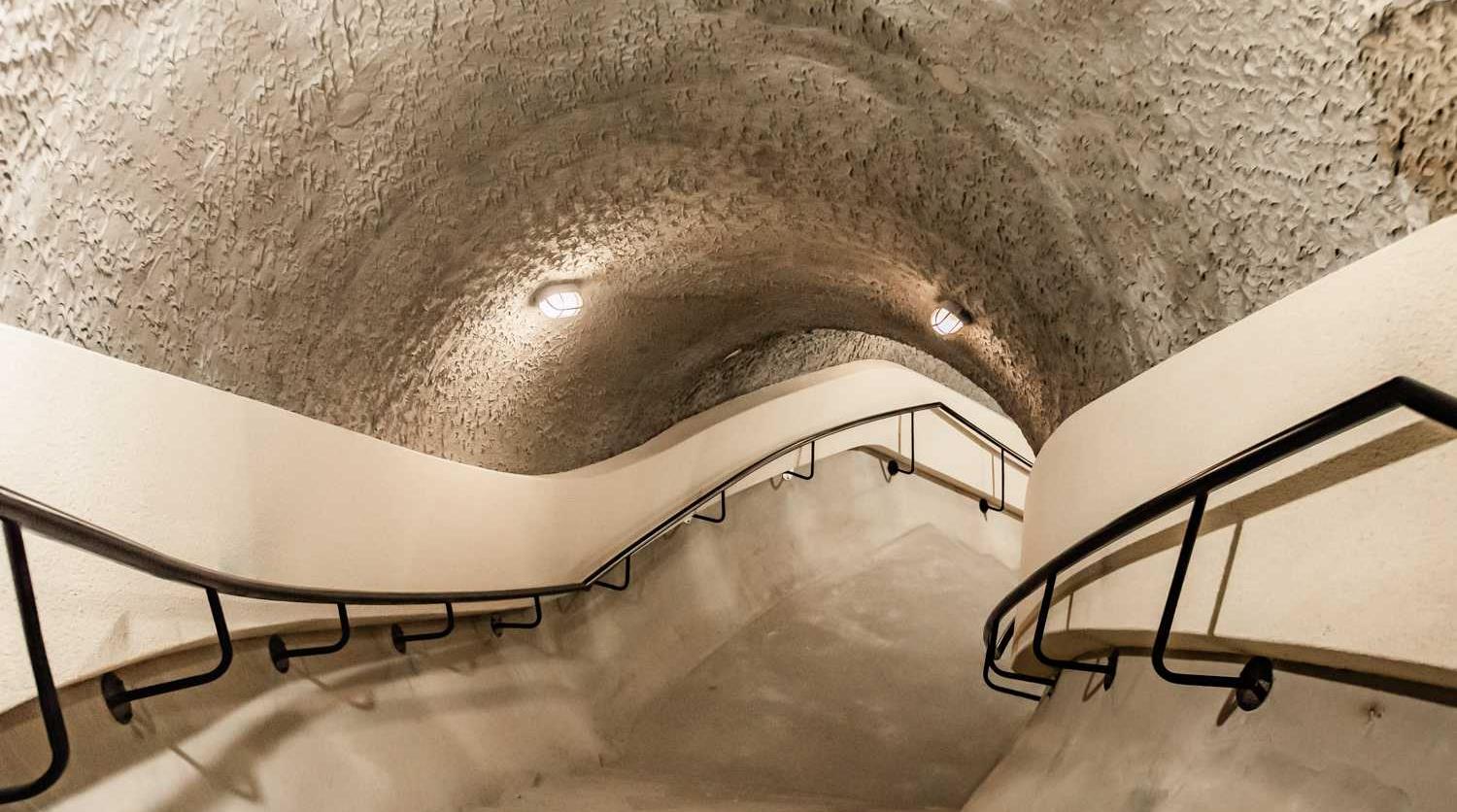 Secret East Passage
The Grand Hotel's mysterious evacuation passages were built in 1973 during the reconstruction of main building. According to the historical background at that time, the Hotel was frequently visited by heads of state and important politicians, making it important to protect the lives and safety of these guests.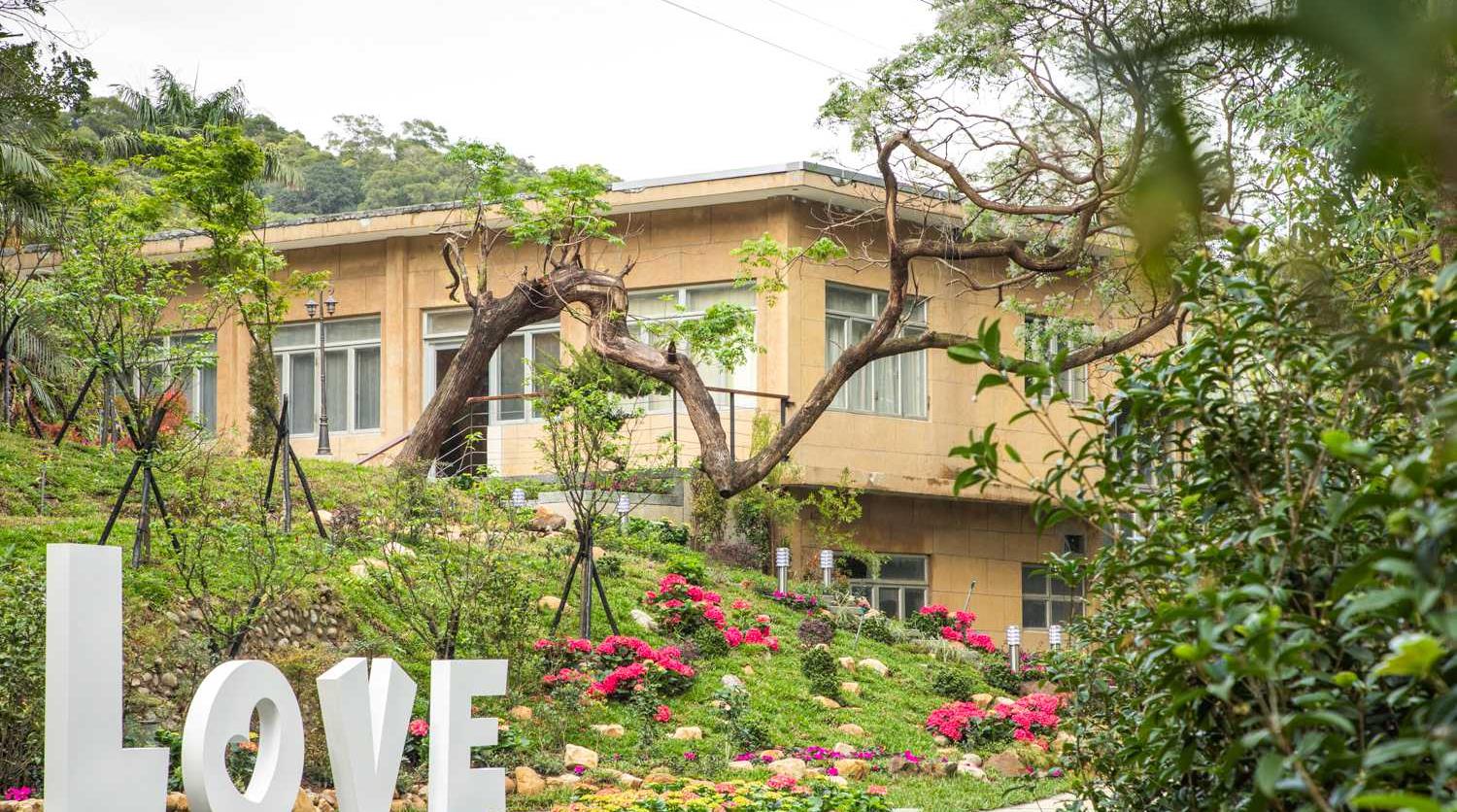 Mystery garden
Walking out the tunnel that winds down the mountain, the shrine established back to the Japanese domination will leap to the eyes. The 112-m-long garden has a beautiful landscape full of flowers, such as Taiwan cherry, French hydrangea and Japanese camellia.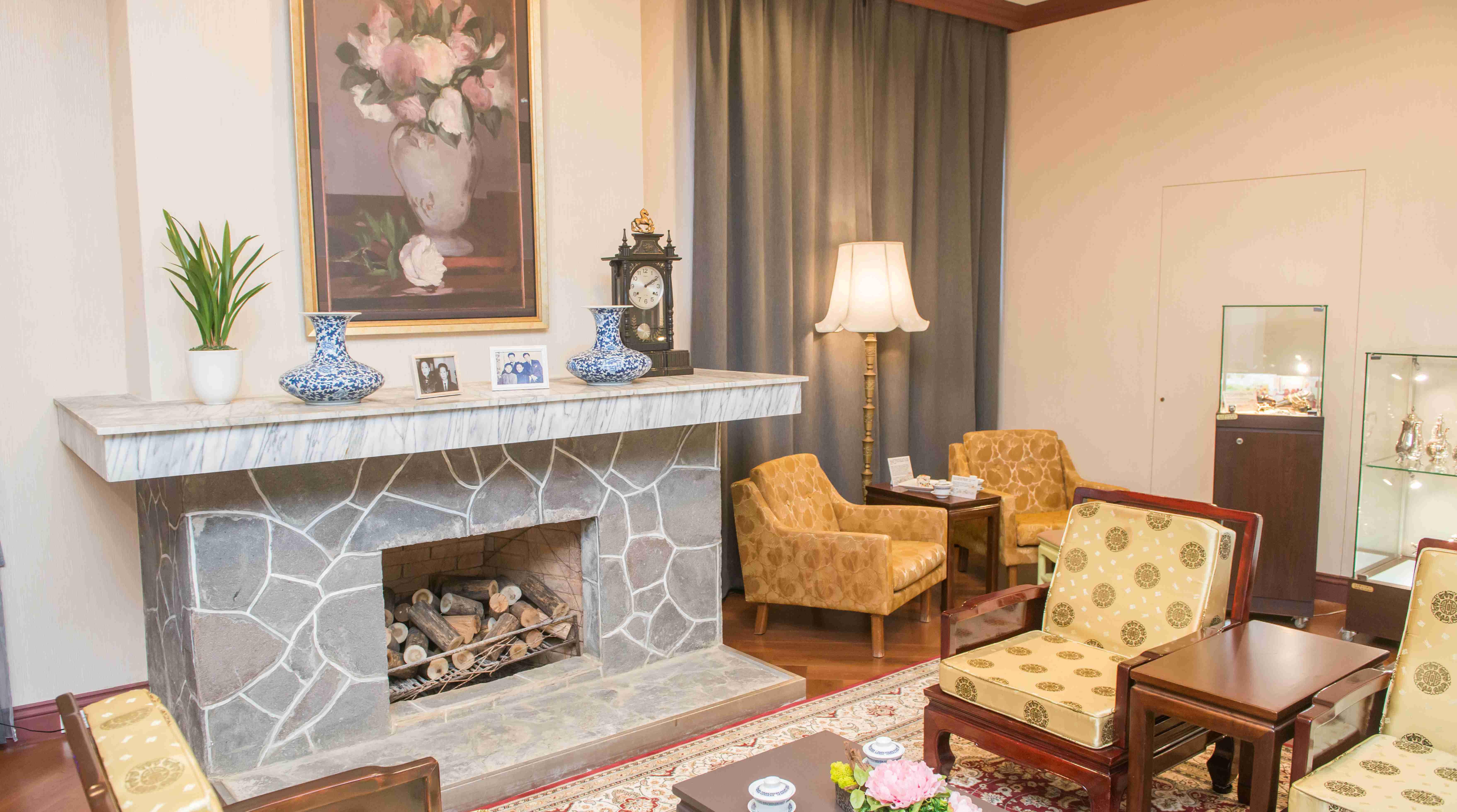 Residence of Ms. Kung (known as the first general manager of the Grand Hotel)
Residence of Ms. Kung was built during the same period of the construction of main building. Apart from preserving the original hardware facilities, the Hotel also displays the objects that Ms. Kung ever used and important cultural relics of the Hotel at this exhibition.